Sabah Homasi predicts a "long but short night" for his Titan FC 40 opponent this Friday
It's been a good year for Sabah Homasi. Since returning to the regional circuit after an unsuccessful bid at the Ultimate Fighter crown in 2015, the 27-year-old American Top Team member has remained busy, rattling off three fights since and going undefeated in 2016 with back-to-back first-round knockouts. He's looking to make it three in a row—and two in a row with Titan Fighting Championship—this Friday at Titan FC 40: Cavalcante vs. Assuncao at the BankUnited Center in Coral Gables, Florida.
Homasi (5-1 since 2014; 10-5 overall) possesses every attribute seen in elite combatants. He's athletic, explosive and technically sound, but more importantly he carries with him a trait surprisingly rare among fighters with his savage skill set: he's unforgivingly vicious. Only two of his bouts (one win and one loss) have gone to decision and 70 percent of his victories (including both of his wins this year) have come by way of knockout. He'll no doubt look for the same result against submission ace Preston Parsons (4-1) this weekend.
Jesse Scheckner: I read you got into MMA after seeing a commercial for a PPV event, attending the event and then signing up at a gym immediately afterwards. Were you at all into combat sports before then or was that the moment you got into it?
Sabah Homasi: No, that was the moment. I wrestled my freshman year of high school and then two weeks into my sophomore year I left wrestling because I was losing too much time for football. Football was my goal. I'd played since I was four years old and I loved it. I thought I'd play college football, but obviously I took another path.
For which school did you wrestle?
I went to Dearborn High School up in Michigan.
Yeah, I read that you saw an advertisement for a local MMA show on a video a substitute teacher brought in and that sort of sparked your interest in the sport.
It was actually live TV. The TV was on—I forgot what we were watching—and I saw this commercial. I forgot who Anderson Silva was fighting. This was back in 2007. I thought man, I've got to go watch that event. And it was awesome. I fell in love with it.
My dad owns a pizza place in Detroit and literally a block up the road was a martial arts gym. So I walked a block up, saw the trainer, signed up and it took off from there.
That wasn't that long after The Ultimate Fighter blew up on TV. Years later, you're on the show yourself. That had to be a little surreal, huh?
Yeah, it was a great experience. I'm glad to take it as it comes. I don't really get star-struck or get into the moment; I just try to stay focused and concentrate on what I have to do.
What was the first fight you ever got into – not necessarily professional, but just your first serious, "this guy is out to hurt me" kind of fight?
My first fight… I was in the fourth grade. [Laughs.] My older brother was there watching me and I fought some kid in my neighborhood and I'd never been in a fist fight; I didn't know how to punch or do anything. I was open-hand slapping this kid and my brother kept on yelling at me, telling me to close my fists and eventually he just gave up and watched me sit there and get punched in the face by this kid. My dad used to box, so we went home—my brother took me home—and my brother said he was going to beat the shit out of me until I punch him back. He put on my dad's boxing gloves and he ended up breaking my nose—laid me out, fucking bleeding everywhere. Then he made me go down the street the next day and fight the kid again. This time it was very different. I was sitting there, crying like a little bitch while beating the shit out of this kid. [Laughs.] It was kind of funny. 
Ever since then I never necessarily walked away from a fight, but if someone was picking on me… Most likely we were fighting. That got me into a lot of trouble because I was in and out of jail for fighting when I was younger. People would pick fights with me, end up getting hurt and then they would press charges.
Yeah, that's not really any way to be a good loser. If you start a fight, you should probably just take your licking and move on. Do you remember the reason why you got into that first fight?
Yeah, this kid was picking on me. I had enough, so I got off my bike and pushed him off his bike and from there we got into a fight.
What's your brother's name?
My brother's name is Fez.
So you join this martial arts gym, you begin training… What was the evolution of your skill set like? I know you train all disciplines, but what areas of the fight game were you specifically drawn to in the gym?
I'm not really specifically drawn to one thing. You can't be a one-dimensional fighter, so I try to work everything equally. I can't have any holes in my game because if I do, someone's obviously going to take advantage of that. That's where they're going to be able to beat me. I try to be as well-rounded as possible.
I mean like when you first started out. When you first walked into the gym and there's the heavy bag over there, the wrestling mats over there, etcetera—all these different areas. What did you find yourself most interested in?
Man, all of it. I couldn't get enough of any one thing. I was always excited to train. I just loved it. I was always in the gym.
You know it's funny, because when I went down and signed up at the gym, Cooper's Gym, I told the guy, "Man, I need to fight. I want to fight. I want to sign up for my first amateur fight."
He was like, "Alright. Let's get you your first couple months of training and I'll get you your first amateur fight."
I was like, "Well, if there's anything coming up soon, I would like to take it."
He was like, "Alright, but right now just come in here and train and we'll go from there."
I went in there and spoke to him over the weekend and started training on Monday, and that Monday he called me into his office, told me about an amateur card and asked if I wanted to fight on it. I was like, "Absolutely!" So he signed me up and I ended up knocking the guy out in like 30 seconds. He called me into his office when we came back and said, "Hey man, I'll make you a deal. If you come in here, train every day, and give it your all, I won't charge you a penny."
I said, "Deal. I was planning on doing that anyway."
The guy really helped me out a lot. He gave me all my gear for free, took me out to eat all the time and just took care of me. He's a great guy and I appreciated it. Really without him, I probably wouldn't even be here right now because I probably wouldn't have been able to afford my gear, training or any of that.
What's his name?
Al Cooper.
Al Cooper, Cooper's Gym. That makes sense.
Yeah.
Of course, you've since moved down to South Florida to train at American Top Team, one of the best gyms—arguably the greatest, depending on who you're asking—in the southeastern region, and the rest is history.
Absolutely. Best gym in the world. I'm not leaving that gym to go train anywhere else. I don't need to. I have everything I need to be successful in that gym.
While reading up on you, I found out something pretty interesting: You're a bit of a writer yourself. You've been published by Fox Sports for your fight journals for when you were in the Ultimate Fighter house. Do you enjoy writing? How'd that deal come together?
Honestly, they just asked me to. I thought, "Why not?" So I went ahead and did it, threw up some extra articles about the episode for the extra publicity.
I found the play-by-play for the fight segments done not too dissimilarly to how professional fight writers do it. You're pretty good man, for real.
Thank you, I appreciate it.
You're undefeated this year and have been just laying dudes out. You've recorded back-to-back first-round knockouts in 2016. Has anything changed in your approach to training or to fighting? Are you just on a run? Is it something else? Is it nothing?
No, nothing has changed. I train the same way. I'm just hungry, you know? I'm trying to get to where I want to be and until I get there I'm going to keep knocking 'em down. Even when I do get there I'm going to continue to knock 'em down. I'm training with the best coaches and teammates that I could ask for and we push each other day in and out.
Preston Parsons, your next opponent… what are your thoughts on him?
I don't have any thoughts about him. I'm not really concerned about what he does. I'm going to go in there and just stay focused on what I'm going to do. If I go in there and do that, he's got no advantages against me.
Do you not watch tape or strategize? Do you just go in trying to impose your will, as they say?
I watched his last fight because we fought on the same card [Titan FC 39]. He fought a guy who was like 1-0 and had no wrestling or jiu-jitsu, so he took him down at will and submitted him. He was effective for being on the ground. I know his game plan is going to be to come in and try to take me to the ground—which is the story of my life; nobody wants to stand up and strike with me—but he's going to have a hard time doing that. It's not easy to take me down, and even if you do take me down it's not easy to keep me there. It's going to be a long but short night for him.
He is considerably less experienced than you at the professional level. But, like you, he's also a fast starter; not one of his pro fights has left the first round. The losses on your record have come after the first round; you've never lost in the first round. It makes for an interesting combination of elements. How do you envision the fight unfolding?
He can push the pace as much as he wants. I don't come into a fight out of shape, so I'm ready to go. Honestly, he's going to get hurt. There's not much else to it. I go in there with the full intention of hurting my opponent. I don't look to grind out a decision. I look to finish fights, and I do that very well.
A win on August 5th will make it three in a row for you. You were in the Ultimate Fighter house and came very close to getting signed by the UFC. You've fought with Bellator, Strikeforce, CFA and now with Titan. Do you believe a call up is coming?
I hope so. I really hope so, but we'll see. I can't say yes right now, but I really do hope they give me a call.
If you don't mind me asking, why do believe it didn't happen after The Ultimate Fighter? You put on decent performances and were shown in a positive light, in having a good personality. I was surprised that I didn't see you back in [the Octagon].
Yeah, I mean a lot of people were surprised. Honestly, the welterweight division in the UFC is very stacked. They only picked out, what, three guys from the show?
Yeah. It was pretty remarkable.
Usually they give everyone a shot, or most people a shot. This time was a little different. Everyone was equally talented, so to bring 16 fighters into the welterweight division when it's already stacked and they're making cuts left and right… Maybe that had something to do with it. I have no idea.
What are your thoughts on the UFC sale that just happened? What's the talk like in the gym, especially among fighters that have been with the company for a while?
Well, I mean money talks. Four point two billion when you bought the UFC for two million plus whatever they put into it—forty, fifty million? It's a smart business move.
Last question. If you weren't a fighter, what do you think you'd be doing?
I probably would've continued school. I left college. I was going to school to become a physician's assistant and eventually become a doctor, so that's probably what I'd be doing. But I looked at the long term and I couldn't see myself not competing. I was doing what my parents wanted me to do, not what I wanted to do. I felt like in the long run I wouldn't be happy.
Sabah "The Punisher" Homasi faces Preston Parsons at Titan FC 40: Cavalcante vs. Assuncao at the BankUnited Center in Coral Gables, FL this Friday, August 5. The fight card, which airs on UFC Fight Pass, begins at 8 p.m. Click HERE for more information.
Follow Sabah on Twitter: @SabahHomasi.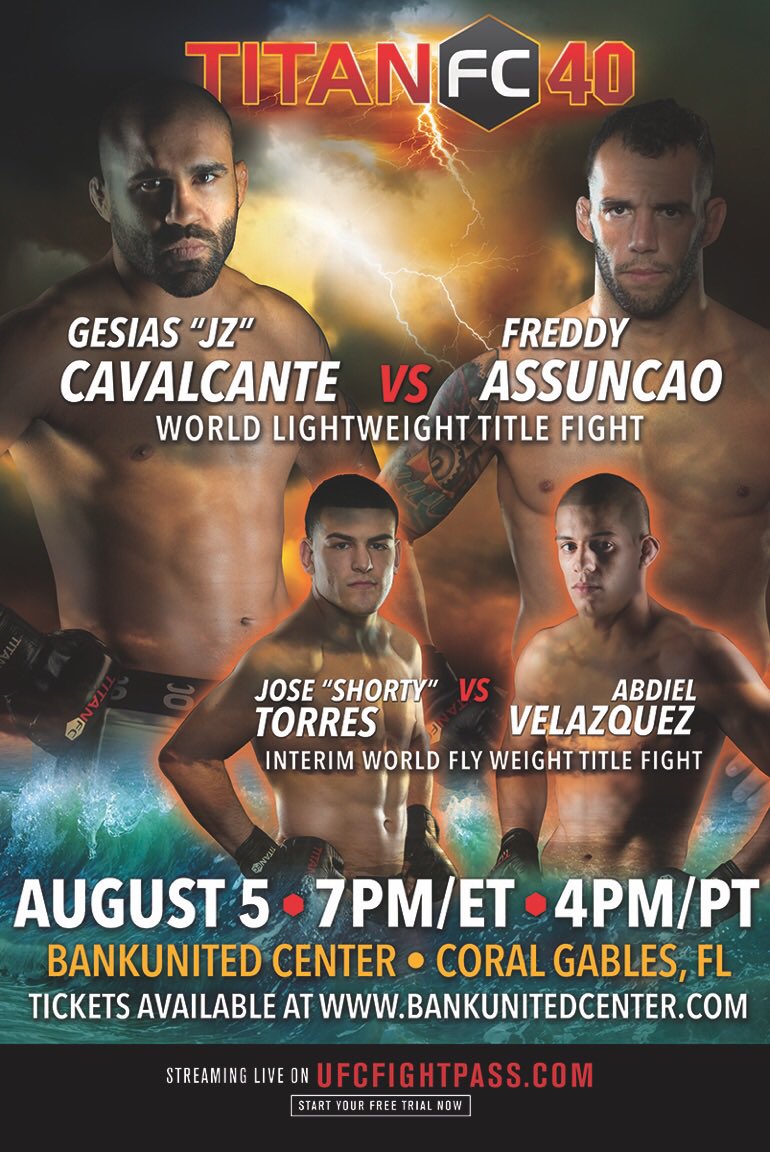 The following two tabs change content below.
Jesse Scheckner
A freelance MMA, entertainment and business journo born, raised and residing in Miami, FL, Jesse Scheckner is a former semi-serious musician, cinephile and recovering ne'er-do-well who still believes Mickey Rourke's finest performance in film has yet to come. He is
TuffGnarl.com's
editor-in-chief, a feature staff writer for MMASucka.com and the 2014 MMA Media Correspondent winner at the Florida MMA Awards. Follow him on Twitter
@JesseScheckner
to talk about the stuff he writes about with him.
Latest posts by Jesse Scheckner (see all)